Thank you for reading this post, don't forget to subscribe!
Key events
The Kyiv regional governor Oleksiy Kuleba has given an update on the electricity situation in the region, saying that "Despite the damage to facilities, the region has already restored power supply by 90%. Planned stabilisation outages in the region are currently underway."
A Russian court on Tuesday fined Wikipedia owner Wikimedia Foundation 2m rubles (£28,200 / $32,600) over articles relating to the Ukraine war, the head of the foundation in Russia has told Reuters.
Stanislav Kozlovsky said the penalty was imposed for not deleting entries that Russia has demanded be removed. He said the foundation would appeal.
The two articles, in Russian, were titled "Non-violent resistance of Ukraine's civilian population in the course of Russia's invasion" and "Evaluations of Russia's 2022 invasion of Ukraine".
On 26 April, a Russian court fined Wikimedia Foundation a total of 5m roubles for similar offences.
Finland urges Hungary and Turkey to ratify its Nato membership 'sooner than later'
Nato's general secretary, Jens Stoltenberg, has tweeted to say that he has had constructive conversations today with the leaders of Finland and Sweden, who are bidding to join the military alliance.
Stoltenberg wrote:
Good calls with Finland's PM Sanna Marin and Swedish PM Ulf Kristersson at this critical time. As Nato invitees, Finland and Sweden have proven that it is every country's right to choose its own path. Russia must respect the rights of other countries and stop its war of aggression in Ukraine.
Earlier today, Reuters reported Finland's prime minister, Sanna Marin, had urged Hungary and Turkey to swiftly approve the Swedish and Finnish applications for membership. They are the only two remaining Nato members not to have ratified the applications.
"All eyes are now on Hungary and Turkey. We are waiting for these countries to ratify our applications. I think it would be important that this would happen preferably sooner than later," Marin told a joint news conference with other Nordic leaders.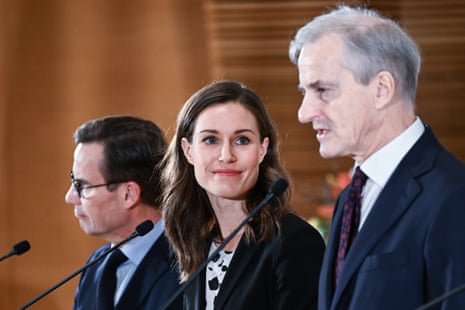 Finland and Sweden last week reiterated they intend to join Nato at the same time, presenting a united front to Turkey.
The Nordic neighbours asked to join the Nato alliance in May in response to Russia's invasion of Ukraine, but the bid ran into objections from Turkey, which has accused the two of harbouring groups it deems terrorists.
Ukraine's president, Volodymyr Zelenskiy, has posted to Telegram a video clip that purports to show scenes of destruction after an overnight Russian missile attack. He has accompanied it with the message:
What does the "Russian world" bring to Ukrainians – S-300 missiles into residential buildings, dormitories, universities. Pain, suffering and devastation.

Are these the kind of negotiations you propose? Terrorists. The only possible outcome of your cynical tactics will be defeat and just punishment for all crimes.
Andriy Yermak, the head of the office of the president of Ukraine, has used the occasion of Israel's fifth election in four years to have a sideswipe at the lack of democracy in Iran and the sham referendums in occupied areas of Ukraine. He tweeted:
I congratulate the people of Israel on realising the right to freely choose their leaders. Unfortunately, residents of Iran, Russia, and citizens of Ukraine, who live in the territories of temporary Russian occupation, are deprived of this right, common to the civilised world.
Here are some of the latest images sent to us from Ukraine, including from inside the occupied areas that the Russian Federation has claimed to annex.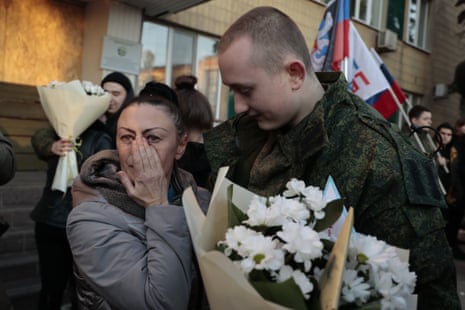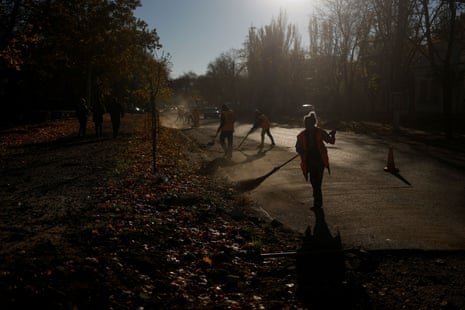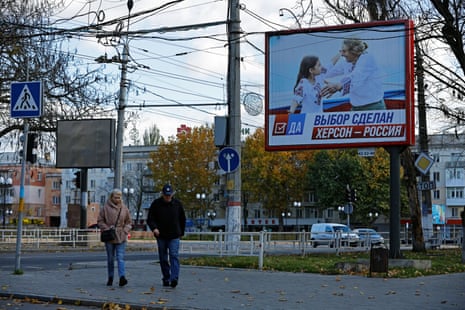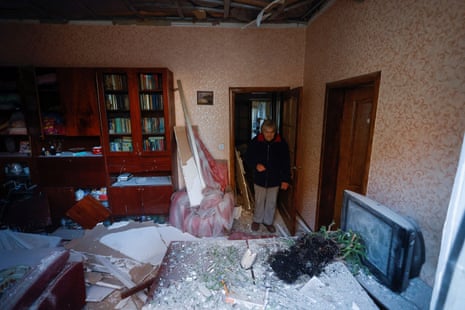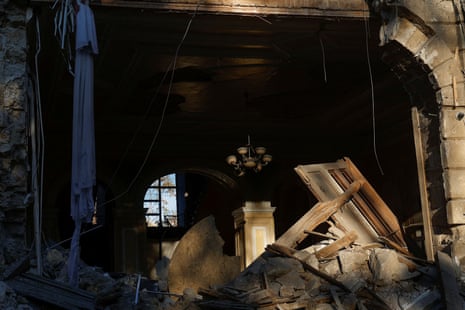 Ukraine's foreign ministry spokesperson said on Tuesday Russia should be expelled from the Group of 20 major economies and President Vladimir Putin's invitation to a G20 summit in Bali next month must be revoked.
"Putin publicly acknowledged ordering missile strikes on Ukrainian civilians and energy infrastructure," spokesperson Oleg Nikolenko wrote on Twitter.
Reuters quotes the tweet, saying: "With his hands stained in blood, he must not be allowed to sit at the table with world leaders. Putin's invitation to Bali summit must be revoked, and Russia expelled from G20."
The city authority in Kyiv has posted to Telegram to say that the air siren all-clear has been given in Ukraine's capital.
At least one killed in overnight Russian strike on Mykolaiv
The state emergency service of Ukraine has confirmed that at least one person has been killed by a Russian strike on Mykolaiv overnight.
In a message posted to Telegram, it said:
On 1 November, at 00:02, the enemy launched a rocket attack on Mykolaiv. As a result, two fires broke out in the Central district of the city and private residential buildings were destroyed.

[Firefighters] eliminated a fire in a warehouse with an area of 50 square metres.

Also, firefighters extinguished the fire on the first floor of a five-story residential building with an area of 50 square metres. Rescuers removed the body of a dead woman from under the rubble of one of the destroyed one-story residential buildings.
The Kyiv regional governor, Oleksiy Kuleba, has posted to Telegram to say that "about 20,000 subscribers" remain without electricity in the region, following yesterday's Russian bombardment of critical infrastructure.
In the message, Kuleba says "I am grateful to the residents of the region for their understanding" about "planned stabilisation shutdowns", and states that "our energy workers work round the clock" on repairs.
Dmytro Zhyvytskyi, the governor of Sumy, has said that with the exception of one overflight at midnight, the night passed quietly in his region. However, he has posted to Telegram that an air alert is now in operation in the north-eastern Ukrainian oblast.